St. Vital Roman Catholic Church
PO Box 58, 11-18th St. East
BATTLEFORD, SK.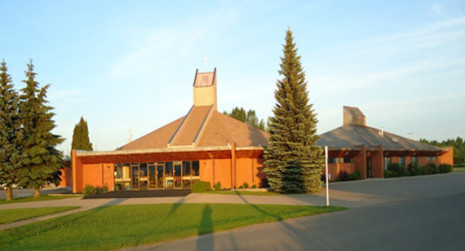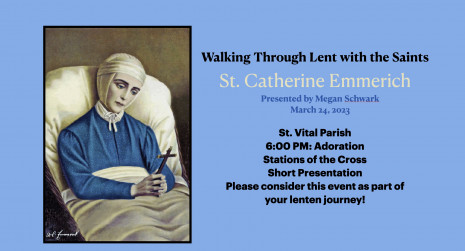 PALM SUNDAY - April 2: 10:30 am
HOLY THURSDAY - April 6: 7:30 pm - Adoration to follow
GOOD FRIDAY - April 7: Stations of the Cross - 2:30pm Service - 3:00 pm
EASTER VIGIL - April 8: 7:30 pm
EASTER SUNDAY MASS - April 9: 10:30 am

Spring Bake Sale
An invitation for all St. Vital Parishioners:
The youth would like to invite you to participate in a Spring Bake Sale
Saturday, March 25 and Sunday March 26.
We will gratefully accept all donations of baking, preserves, etc. to sell in the foyer of the Church on those days after Mass.
All proceeds will go to the youth fund for programming and activities.
Please call Reese Bailey @ 306-445-2179 for more information.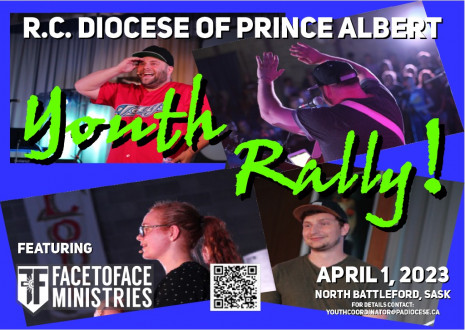 Meetings
The St. Vital CWL meets regularly Sept - June on the second Thursday of each month in the St. Vital parish hall.
Mass: 6:30 pm
Meeting: 7:00 pm
Next Meeting: Thursday, March 9, 2023

Meetings
First Tuesday of the month
Mass: 6:30 pm
Meeting: 7:00 pm
Next Meeting: Tuesday, April 4, 2023

St. Vital Senior Youth Group
(Gr. 8 and up)
Meets regularly 1st and 3rd Fridays
at St. Vital Parish
ALL ARE WELCOME!