Our Parish History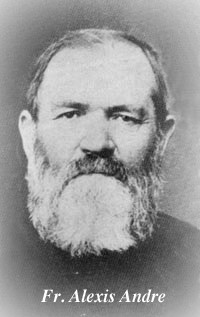 1877- Shortly after Battleford was named the capital of the North West Territories, Bishop Vital Grandin O.M.I. decided it was time to found a mission in the village. At his urging, Father Alexis Andre traveled to Battleford to establish a new mission. The mission was dedicated to the patron saint of Msgr. Vital Grandin, (St.Vitalis) and called St. Vital.

During that first winter, Mass was celebrated in homes within the community. It is interesting to note that as a result of Fr. André's close association with the Metis, he was assigned as Louis Riel's spiritual advisor prior to Riel's execution in 1885. Fr. André also appeared as a witness for the defense in Riel's trial.
1878 - The first chapel constructed was a humble structure of mud covered logs with two small windows, rough benches, and a simple wooden cross atop the roof. This was located south of the Battle River on an area known then as the "flats."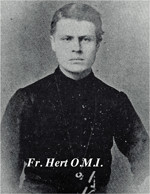 1880 - A house on the banks of the Battle River was transformed into a chapel rep878 structure. In October Father Hert, pastor of the mission, was buried in the original sod roofed chapel. Fr. A. Bigonesse arrived from Ottawa a month later to become the new pastor.
1883 - By the spring of 1883 logs required to build a new chapel arrived downriver. Captain Antrobus of the NWMP at Fort Battleford convinced Bishop Grandin to build the chapel in the vicinity of the fort. The Bishop agreed and construction began in mid September. The remains of Fr. Hert were moved from the first chapel on November 2, and buried in the chapel located near Fort Battleford. Fr. Hert's remains are still buried in this chapel, now designated a historical site. (The photo at the right shows the logs used in construction.)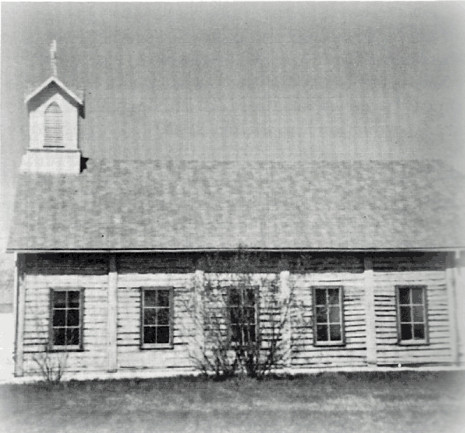 1983 - This building served the parish for 100 years. In 1983 it was turned over to the Town of Battleford as a Heritage Property and was designated as such in 1985.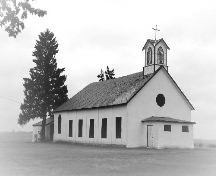 1984 - The present St. Vital Church was completed in February with the first Sunday Mass celebrated on March 11. The parish centre was added to the chapel and opened on June 1, 2003.

Bishop Vital Grandin, O.M.I. Founder of St. Vital Parish, Battleford, SK.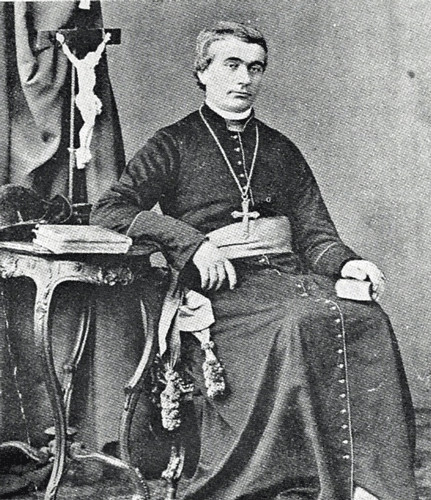 "They have made me a bishop because of my long legs ... " lamented the young Vital Grandin. Barely thirty years old, he was made coadjutor to Bishop Tache, a bishop whose diocese stretched from Winnipeg to Vancouver and from the American border to the Arctic circle. For over forty years Bishop Grandin traveled tirelessly throughout the Canadian west in search of souls. " ... in this country" he said "the love of money and of trade inspire men to greater efforts than the love of God - ... among the Indian people not even one wolf's tail is lost; traders are always on hand to take them. But souls (of the Indians) will be lost for lack of spiritual assistance .... "
The Catholic church in historic Battleford bears his name in its title, St. Vital. Who was this man so present to his age that vestiges of his presence are still with us?
Born in Brittany, France on February 8, 1829, Vital was the 9th of 13 children. His parents owned an inn on the main road between Le Mans and Mayenne. The inn and the road were symbolic; Vital was destined to be a great traveler.
As a young boy Vital felt a deep desire to be a priest. He entered the diocesan seminary at Le Mans. Gradually the idea of being a missionary became stronger and stronger. Admission was sought to the society, the Foreign Missions of Paris. After a year, he was asked to leave because of his delicate health and a slight speech defect. Determined to be a missionary, he applied to the Missionary Oblates of Mary Immaculate. He was accepted, and on the 23rd of April, 1854 he was ordained a priest.
Departure for the Canadian missions came soon; by June 4, 1854 he was on his way. On April 14, 1855, he arrived at St. Boniface, Manitoba. Beyond this large frontier town and to the west stretched the endless prairies which would soon be his field of apostolate. Four and a half years later, he was consecrated coadjutor bishop of Msgr. Tache of St. Boniface. Bishop Grandin took up residence at Ile a la Crosse. From there he traveled to all parts of western Canada. Within 10 years he was named bishop of the see of St. Albert, a territory which then embraced an area presently being served by 18 dioceses.
Schools, hospitals and churches sprang up in his wake. In spite of his delicate health, and the fact that at the age of 40 hardships and privation had given him prematurely white hair and a bent body, he vigorously continued his missionary activities for over forty years.
Toward the end of his life he had a dream. He saw himself as a tired and withered leaf clinging to the branch through the bitter winter and finally giving way to the new growth of spring. It was a prophecy. On June 2, 1902, in his 73rd year of life, he died peacefully, surrounded by fellow Oblates and missionaries. The common feeling was, "We are assisting at the death of a saint."
The Oblates of Mary Immaculate have presented his case in Rome for canonization. It is hoped that some day he will be declared a saint and the glory of God will turn the "withered leaf" to gold.
Historical information adapted from "St. Vital Parish 1877 - 1977" edited by Stefan Horacki and published by St. Vital Parish in 1977.
Used with permission of the author.